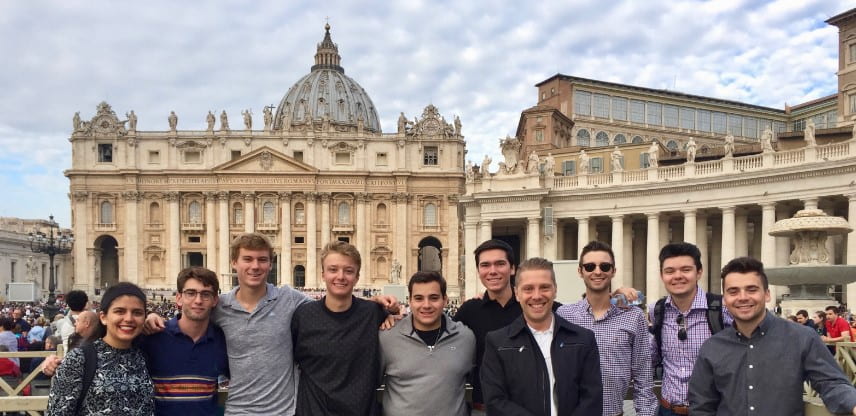 Why Study Philosophy?
Perhaps the best reason to study Philosophy is that it is so intrinsically interesting, but there are plenty of other good reasons, too:
Ask the Deepest Questions: Philosophy students get to ask the deepest questions there are about the nature of reality, thought, and perception; about the good life; about the existence of God; and much more.
Make Up Your Own Mind: Evaluate the thought of some of the greatest thinkers there are and figure out your own answers to the problems that animated them.
The GRE: Philosophy Majors excel at the Graduate Record Exam, typically outperforming Majors in every other discipline, coming in highest in the Verbal and Analytical Writing sections, and above every other Humanities subject area in the Quantitative section.
The GMAT: Philosophy Majors excel on the Graduate Management Admission Test, typically outperforming Majors in every other Humanities discipline, as well as Majors in Business, Economics, Finance, and Marketing.
The LSAT: Philosophy Majors excel at the Law School Admission Test, typically scoring among the highest of any Majors.
Employability: Philosophy students develop skills of analysis and reasoning that are valuable in any field of work.
See more reasons here: https://sites.google.com/site/whystudyphilosophy/
Why Study Philosophy at PC?
Expertise: The Philosophy Department is one of the largest departments on campus, comparable in size to the departments at many major research universities, with faculty specializing in a wide range of areas of Philosophy.
Choice: Choose from a wide range of courses, from the introductory to the in-depth, taught by internationally renowned researchers and passionate teachers.
Philosophy Club: We host a growing Philosophy Club that holds various events every semester, including film screenings, discussions, and visits to philosophical events in the region.
International Honors Society: Philosophy Majors and Minors are eligible to join the International Philosophical Honors Society Phi Sigma Tau, with an induction ceremony for new members every year and visiting speakers each semester.
Ethics Bowl: Join our Ethics Bowl team — regional champions at the first attempt in 2013-14!
Essay Prizes: The Philosophy Department awards three essay prizes every year to the best work in philosophy.